Project Interface Management
Reducing Risk on Major Projects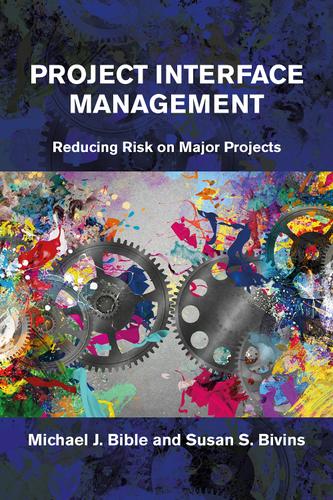 Already purchased in store?
Additional Book Details
"Owner companies increasingly demand that engineering, procurement, and construction firms have robust procedures and tools in place for interface management. Because it is a new discipline, few have them. This unique book provides everything needed to implement world-class interface management on projects.
Alan Kendall, MBA, Major Capital Project Interface Manager, Global Energy Sector


The long planning horizon of complex projects defies the traditional project management concepts of deterministic schedules, costs, risks, and assumptions. Large cost overruns and benefit shortfalls are all too common. Virtually all major projects involve complex interfaces among diverse stakeholders, many of which have no direct contractual relationships, yet they share critical interfaces that can mean the difference between great success and huge failure.


This unique book presents a holistic view of a new discipline called project interface management, which is planning, coordinating, and controlling of the work of others at project interfaces. It includes numerous processes, tools, and techniques and aligns critical interactions among project management, systems engineering, and operations management to reduce project risk and increase successful system design, development, completion, and transition of major projects.


This cutting-edge text is designed for use in graduate-level project management and system engineering courses, executive education programs, and will serve as a professional reference. It will show professional project managers, systems engineers, executives, managers, and students how to plan, implement, and manage interfaces in real-world practice using a simple cost-effective approach. It is a must-read for those dealing with complex industrial projects and in government, defense, aerospace, energy, information technology, education, transportation, and infrastructure.


SOFTWARE TOOLS


In addition to the WAV material mentioned below, and to enhance learning and provide readers with hands-on experience in the processes described in the book, the authors have entered into an agreement with Kongsberg to allow instructors who are using the book as a textbook, along with their students who are also using the book, six-month temporary limited access to Kongsberg Seaflex WIR. In addition, this agreement allows individual readers who purchase new copies of this book from authorized resellers limited access to predefined projects. Instructors and individual book purchasers may contact Kongsberg to sign up by navigating to https://www.interfaceregister.com/imbook.aspx.



Key Features:


--Details how project interface management can address many of the issues contributing to large cost overruns and significant under-delivery on major projects

--Articulates why interface planning is critical and must align with the project plan for design, development, and delivery

--Destroys the common misconceptions that project interface management is only applicable within technical or engineering functions and that acquiring an applicable software tool is all one needs to improve major capital project outcomes

--Discusses the need to systematically identify, document, and manage technical, project, organizational, and industry interfaces on major projects to ensure effective system integration and adherence to project constraints, while meeting stakeholder expectations and industry regulations

--Describes ways to effectively and efficiently manage interfaces during project execution that minimize the risk of rework during integration

--Provides practical guidance on how to plan and implement a project interface management program that incorporates proven practices in a variety of domains

--Demonstrates how to perform interface management during project execution using an engineering, procurement, and construction (EPC) project execution model

--WAV material for all readers includes figures and tables from the book in color, an excel workbook for setting up an interface management project, and numerous project document templatesavailable from the Web Added Value Download Resource Center at www.jrosspub.com

--WAV material for adopting professors include a PowerPoint slide deck for all chapters, an instructor Starter Guide, and a sample course outlineavailable from the Web Added Value Download Resource Center at www.jrosspub.com


About the Authors


Michael J. Bible, PMP, CSEP, MSPM, MSSE, has over 30 years of professional and leadership experience supporting major programs and projects in the United States Department of Defense and the Norwegian Oil and Gas industry. Mike is a project management and systems engineering professional with a successful history of applying project portfolio, project management, and systems engineering in large-scale complex project environments.


Mr. Bible is a long-time member of the Project Management Institute (PMI) and the International Council on Systems Engineering (INCOSE) and has been honored to be a guest speaker at numerous PMI events including the Global Congress North America. He earned a Master of Science in Project Management (MSPM) from the George Washington University and a Master of Science in Systems Engineering (MSSE) from Johns Hopkins University. Mike currently lives with his wife and son in Trondheim, Norway, and can be reached at mb1775@gwu.edu.


Susan S. Bivins, PMP, MSPM, has more than 30 years of management and leadership experience dedicated to delivering successful information technology, organizational change management, and professional consulting services projects for major global corporations. She specializes in project and portfolio management; international, multicultural and multi-company initiatives; and business strategy integration in the private and public sectors.


Ms. Bivins earned her MSPM from the Graduate School of Business at George Washington University. She is a member of the Project Management Institute, has authored several journal articles, and is a frequent webinar and conference speaker, including multiple presentations for PMI Global Congress North America. Sue currently lives with her husband in St. Louis, Missouri, USA, and can be reached at sbivins@gwu.edu.


Their first book together, Mastering Project Portfolio Management, has become an international best seller."